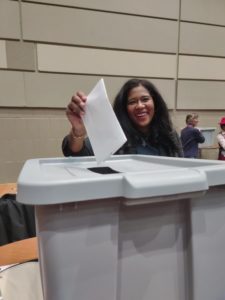 Fellow Republicans:
BREAKING: First Black Female, Kristina Karamo, Wins MI GOP Chair Race – Fake News Media Panics
Congratulations to our NEW, Michigan Republican Chair, Kristina Karamo!
We welcome you to a new re-energized Republican Party!  This is the home of the Isabella County Republican Committee. We appreciate you taking the time to visit our site and learn more about our local Republican organization.
As the local Republican organization in Isabella County, our group focuses on candidates running for local offices, including countywide positions, County Commission and other local offices. We also provide local assistance to regional and statewide Republican candidates.
Online, you can learn about the many different ways to get involved, find out about upcoming events in our area, make a local contribution to help candidates right here in Isabella County and more. Of course, if you have any questions, just visit the "Contact Us" page for more information.
Again, thank you for visiting the new home of the Isabella County Republican Committee, and we hope you will get involved and help us make a difference!
Sincerely,
Dawn Betha,

Phone: (760) 519-1215



[email protected]

Chair
Gene Haymaker

Phone (989) 560-0890



[email protected]

Vice-Chair
Jay Michaud
Treasurer
Rusell D Hyde

Phone (989) 488-7663



[email protected]



WebKeeper, if you see an error or want to suggest an addition or feature please reach out via the email listed above.

Secretary


Campaign Headquarters
We will set up another headquarters next election year.