Students are failing. Test scores and grades continue to plummet nationwide. Why? America's K-12 education system is often more concerned with pushing radical activism on students rather than teaching what needs to be taught.
We have a HUGE ANNOUNCEMENT that could change the future of education in America! This fall in schools across the country, students will be watching PragerU videos in their classrooms as states officially make PragerU an approved educational resource.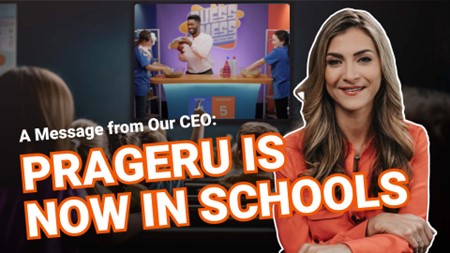 Florida was the first state to officially approve PragerU's new K-12 supplemental resources for classroom use. More states are coming on board, encouraging educators to share PragerU's educational videos and lesson plans with their students.
In the past, teachers have been disciplined—even fired—for showing PragerU videos in their classrooms. Now, PragerU videos are not only being allowed in classrooms, but superintendents and education commissioners are actively encouraging teachers to use PragerU's content to educate their students.
Thousands of American teachers and school board members have contacted PragerU desperate for wholesome, quality, engaging resources to help educate their students. They are sick and tired of curriculum laced with radical political agendas—from Critical Race Theory and gender fluidity to overt anti-Americanism. Educators have been asking PragerU for help to give their students a sound (and fun) education to prepare them to make good decisions.  PragerU is answering this call to serve our great nation on the most important front—the education of America's youth.
For more than a decade, PragerU has provided millions of Americans of all ages with educational and entertaining content. Many Americans already use PragerU's videos, books, and magazines every day to supplement their students' education. More than 1,000,000 households have downloaded PragerU's free app for phones, iPads, and TVs. They trust PragerU to educate their children at home. Now, their children can also learn from PragerU videos during their school day.
PragerU Kids materials are being packaged as free turnkey lesson plans for public, private, and charter schools. These supplemental educational resources use videos, activities, and worksheets to cover multiple educational standards in one lesson that is fun, interactive, and entertaining. PragerU Kids offers an easy, cutting-edge way to teach core knowledge in subjects ranging from civics and history to entrepreneurship and financial literacy.
All Americans who want a better education for today's youth are encouraged to sign the petition to get PragerU in schools.
Right on cue, the left is already calling for PragerU videos to be banned from schools. Left-wing media outlets and teachers' unions continue to attack PragerU. These biased organizations are outraged because PragerU effectively counters the left-wing propaganda they are pushing on children. They don't want children to be exposed to an education grounded in our nation's founding principles and traditional values that inspires self-reliance, gratitude, and a love of America!
In an effort to give a voice to millions of Americans who want PragerU in schools, we launched a petition for the American people to show their overwhelming support to get PragerU in classrooms nationwide.
Please take one minute to sign the petition. Together, we can change the future of education in America.
Sincerely,
Marissa Streit,
CEO of PragerU