Trump's poll numbers spike post indictment
---
QUOTE:The Gateway Pundit has reported for over a year now on the ERIC (Electronic Registration Information Center) voter roll system that is used in 30-32 states.  The system was originally promoted as a tool to clean up voter rolls.  It is anything but that.
For example, Wisconsin is an ERIC State and has over 7 million registered voters in a state with less than 4 million eligible voters.  The Wisconsin state election leader Sarah Whitt was hired by ERIC after performing such exemplary work in Wisconsin.
Obviously, ERIC is not working.  The ERIC system is obsolete, inefficient, and has failed in its purpose.  The Democrat party apparatus loves it for some reason.
The ERIC system is now used in dozens of states despite the fact that voter rolls in those states are more bloated with phantom voters than ever before in US history.
This week, THREE STATES – MISSOURI, FLORIDA, AND WEST VIRGINIA – announced they were cutting ties with the ERIC System.
"We have worked hard over the last several years to implement procedures that will make Missouri elections better, voter rolls more accurate, and bring greater trust to the election process," Missouri Secretary of State Jay Ashcroft said. "Voter confidence is compromised when individuals vote in more than one state and nothing is done.  It appears that ERIC will not make the necessary changes to address these concerns, therefore, it is time to move on."
As West Virginia Secretary of State Mac Warner said, "There is no defensible justification to allow any opportunity for partisanship in voter registration and list maintenance, much less in the administration of our nation's elections."
Ranking Democrat Accuses 'Twitter Files' Reporters of Endangering Employees by Exposing Censorship
---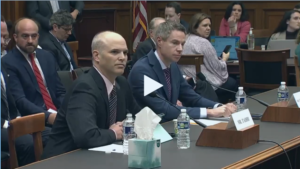 https://www.foxnews.com/media/twitter-files-hearing-erupts-matt-taibbi-refuses-reveal-sources-heated-exchange-democrat
---
Visa, Mastercard Stop Program to Categorize Gun Purchases Differently After Pushback
Associated Press: Visa and Mastercard paused their decision to start categorizing purchases at gun shops, a significant win for conservative groups and Second Amendment advocates who felt that tracking gun shop purchases would inadvertently discriminate against legal firearms purchases. After Visa and Mastercard announced their plans to implement a separate merchant category code for gun shop purchases, the payment networks got significant pushback from the gun lobby as well as conservative politicians. A group of 24 GOP state attorneys general wrote a letter to the payment networks threatening legal action against Visa and Mastercard if they moved forward with their plan (Associated Press). Bloomberg: The push to adopt the new code was led by Amalgamated Bank CEO Priscilla Sims Brown. In November, Brown said banks were developing technology to identify potential mass shooters by creating "detection scenarios" that, if triggered, would prompt banks to file a Suspicious Activity Report to the Treasury Department's Financial Crimes Enforcement Network (Bloomberg).
---
Federal judge, siding with Florida, blasts Biden administration on immigration
QUOTE: A federal judge on Wednesday handed a victory to Florida Gov. Ron DeSantis and Attorney General Ashley Moody as he delivered a blistering rebuke to the Biden administration's immigration policies.
U.S. District Judge T. Kent Wetherell ordered federal immigration authorities to revamp one key policy that he says runs counter to federal law while at the same time castigated the Biden administration for its handling of what he called an "unsustainable" crisis on the nation's southern border.
"For the most part, the court finds in favor of Florida because, as detailed below, the evidence establishes that defendants have effectively turned the Southwest border into a meaningless line in the sand and little more than a speedbump for aliens flooding into the country," wrote Wetherell, who was appointed to the bench by former President Donald Trump.
Wetherell added that the Biden immigration policies were "akin to posting a flashing 'Come In, We're Open' sign on the southern border. The unprecedented 'surge' of aliens that started arriving at the Southwest Border almost immediately after President Biden took office and that has continued unabated over the past two years was a predictable consequence of these actions. 
The ruling comes amid reports that the Biden administration is considering reopening previously shuttered detention centers to house migrant families.