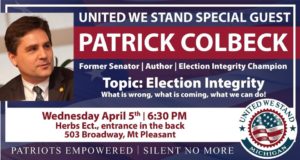 PREDICTING THE NEXT ELECTION:
What's wrong, What's coming, What we can do? 
Patrick Colbeck is an American engineer, author, and former Republican Senator. Patrick Colbeck is widely recognized as one of Michigan's top integrity experts. He is former vice Chair of Elections and Government Reform in the Michigan Senate, an accomplished aerospace engineer, a frequent guest on national TV, and radio programs, as well as published author. You can follow Patrick and his work at his website 
LetsFixStuff.org.