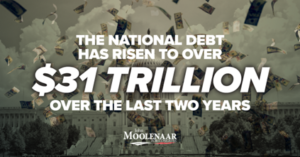 After my team reached out about the reality of President Biden's spending this week, I wanted to take a few minutes to tell you more about my efforts to bring prices down.
Inflation is the word on everybody's lips here in Washington, and for good reason. We're all aware of the ordeals Americans are having to go through as a result of President Biden's spending, and that's why we're determined to bring prices down ASAP.
As a member of the House Committee on Appropriations, I am working hard to stop President Biden's excessive spending. I've supported legislation for more accountability, spending restrictions, and fiscal responsibility, but even that hasn't stopped this Administration from tacking on trillions more…
Keeping fiscal responsibility in Congress is one of my top priorities and I refuse to sit back as we needlessly pay more for the goods we depend on. Enough is enough. If you're ready to stop President Biden's spending and end high prices
---
Additionally, I am honored to serve on the House Appropriations Committee, which is responsible for allocating federal funding for various programs and agencies. This is a crucial role, as it enables me to ensure that taxpayer dollars are being spent in a responsible and effective manner.
I have also been asked to sit on the Select Committee on China, which is tasked with conducting a top-to-bottom review of U.S.-China relations and developing a strategic approach to the challenges of a rising China. We will investigate the threat that China poses to the United States both economically and militarily. I believe it is crucial that the United States has a clear understanding of China's ambitions, tactics, and relationships concerning our country.
To that end, I look forward to continuing to work together as we strive to promote conservative principles and policies that will benefit all Michiganders. Thank you again for your support and for taking an active role in shaping the future of our party and state.