Fighting to Stop Biden's Student Loan Giveaway
I recently asked constituents if they support President Biden's student loan debt giveaway. They overwhelmingly oppose his unconstitutional plan! I have cosponsored new legislation that would end his reckless, law-breaking attempt to spend billions of dollars with no approval from Congress.
Many hardworking Michigan residents decided to not to go to college and pursue opportunities in the skilled trades instead. Today,

they do welding, plumbing, pipefitting, and other vital services we need. President Biden wants to make them pay for the degrees and debt other people took out to go to college. His unconstitutional and unfair plan penalizes people who never ran up college debt and those who paid off their loans on their own.
Ending Unfair Mortgage Rule
On Monday, a new Biden administration rule took effect that increasesfees on homebuyers with credit scores greater than 680. It is raising mortgage fees for families who played by the rules and saved to buy a home. It is wrong to penalize these hardworking families and make it harder for them to buy a home. That is why I support legislation to stop President Biden's unfair mortgage rule. 
Congressional Art Competition Winner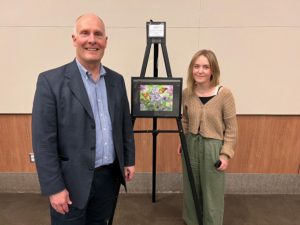 Congratulations to Julia Reed from Ludington High School! She won the Congressional Art Competition for our Congressional District! Her watercolor painting is named Monarchs on a Lilac Branch. This outstanding piece of art will be displayed in the Capitol for the next year where it will be seen by people from across the country and around the world.
In Case You Missed It
WOOD TV: To The Point: Interview with Congressman Moolenaar
Detroit News: Michigan lawmakers meet with Air Force secretary on future of Selfridge fighters
Fox News: Moolenaar: Biden must act to stop Chinese space dominance
Sincerely,
John