WEEKLY NEWSLETTER
---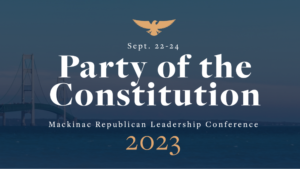 Click Image to Register of get more Information.
---
MI May 2nd, 2023 Election Information
For more information from the MI Secretary of State: 
CLICK HERE
 UPCOMING EVENTS
District and County GOP wide events can be found by clicking the button below
Click HERE to view the Events Calendar
---
Outreach Vice Chair 
Rola Makki
We the People Luncheon
For more information and to purchase your ticket:
CLICK HERE
Tickets: $45.00
Date:
Saturday, April 29th
Time:
11:00am – 2:00pm
Location:
Byblos Banquet Center
7258 Chase Rd., Dearborn 48126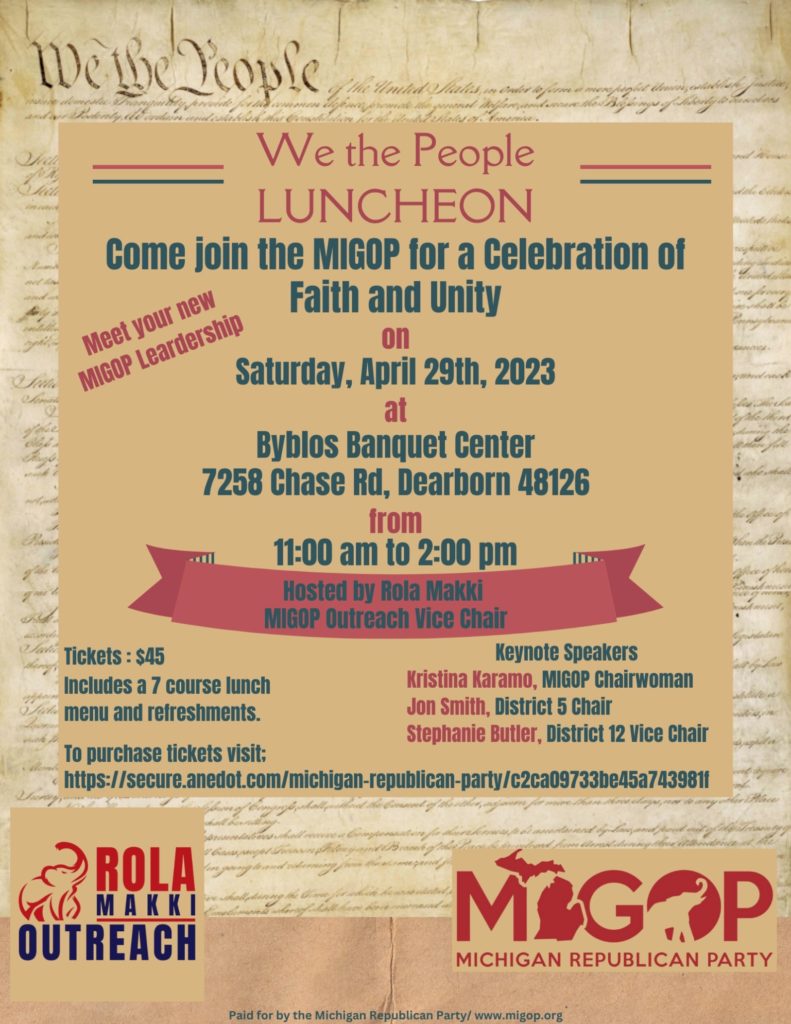 ---
Grassroots Vice Chair
Marian Sheridan
Marian Sheridan was elected to her third term as Grassroots Vice Chair for the Michigan Republican Party in February 2023. She has worked in Michigan grassroots for the last 12 years. She became actively involved in politics starting out as a tea party leader and grassroots organizer. She still leads the Lakes Area Tea Party in Oakland County. Later, she became one of the founders of the grassroots organizations: Michigan Conservative Coalition and Michigan Trump Republicans resulting in the recruitment of hundreds of precinct delegates, which in turn has energized and grown the Michigan Republican Party.
Through the Michigan Conservative Coalition, Marian has organized hundreds of grassroots events across the state, including Battle Cry in 2017, 2018, and 2019, the largest conservative conference in the Midwest. In 2021 she also helped organized Operation Gridlock, a rally in which 25 thousands citizens across the state of Michigan participated in an effort to protest the Governor's draconian "Stay at Home" orders.
In 2016, 2018, 2020 and 2022, Marian led the effort to protect the Absentee Ballot count by recruiting hundreds of poll challengers and election workers across the state. She helped train over 400 volunteers and joined them in the effort to oversee Detroit's disturbing absentee ballot counting board during past elections.
Presently she is working with the Thomas More Society on election integrity efforts and school reform in Michigan.
Youth Vice Chair
Rylee Linting
Since being elected, Rylee Linting has appointed Rachel Warner as Deputy Youth Chair to ensure that all of Michigan's youth is seen and taken care of. Rachel is a junior at Kellogg Community College where she has started a Turning Point Chapter and revitalized the previously dead College Republican Chapter. Rylee and Rachel have since drafted and began releasing an application for District Captains. District Captains will serve as an extension of the Youth Chair within their home district. This is a great opportunity for young conservatives to get involved and gain experience by networking within their district. Rylee and Rachel are looking forward to reviewing resumes and speaking with young leaders across the state in the upcoming weeks.
Coalitions Vice Chair
Hassan Nehme
I am honored to be serving as your Coalitions Vice Chair, and I wanted to take a moment to update you on our progress since the transition to the current administration. It has been a tough period for us as we essentially had to start fresh. However, I am proud to say that we have been making strides in organizing and structuring our party.
As we continue to work towards our goals, we ask for your patience during this transitional period. Rest assured that we are working hard to make our party the best it can be.
Personally, I have been focusing on networking with local organizations across the state, attending community events where Republicans have not made appearances before, and reaching out to different organizations and businesses to understand how we can gain their support.
I have also been working with multiple election integrity plans statewide that should be rolling out soon, as well as national organizations to gain some much-needed support for the upcoming elections. In addition, I have been working with potential candidates to get them ready for the elections. It is exciting to see people stepping up to challenge many local city positions this year.
As I dive deeper into this role, I am understanding the importance of putting our differences aside and looking at the bigger picture. Speaking with different districts across our state, I am realizing a pattern. We need to remember who the enemies are, and that we are standing up for God and country. We need to remember what makes our nation great. When our freedom is threatened, we stand up united and face the enemy together.
It is crucial that we stay focused on our values, beliefs, and mission. We have momentum, and people believe in us. Let us deliver a strong Republican Party that will work towards the betterment of our state and our nation.
    Thank you for your continued support, and I look forward to updating you on our progress.
Administrative Vice Chair
Ali Hossein
As the Administrative Vice Chair of the party, I wanted to take a moment to update you all on our progress during this challenging transition period. It has been a tough time for us, as we essentially had to start from scratch and rebuild the party's organization and structure.
We understand that this process may take some time, but we ask for everyone's patience and support during this transitioning period. Rest assured, we are working diligently to get everything back on track. One of my main focuses during this time has been networking with local candidates across the state. I have been reaching out to different organizations and businesses to gain an understanding of where and how we can gain their support. We are also working on planning some exciting events for Mackinaw that should be rolling out soon.
Additionally, I have been working with national organizations to gain much-needed support for the upcoming election. We need to set up candidate events statewide, and we are excited to see people stepping up to challenge many local city positions in this year's elections.
I am also working with some data analysts who are setting up a program to clean voter rolls and expose the problems with our state's election process. This is a crucial step in ensuring fair and transparent elections for all Michiganders.
We understand the importance of this upcoming election, and we are working tirelessly to ensure that the Michigan Republican Party is ready to make a significant impact. We appreciate your continued support and commitment to the party.
Thank you all for your dedication to our cause. Together, we will make Michigan a better place for all.
LEGISLATIVE UPDATE

MI State House
Last week schools were given the ability to levy a sinking fund for transportation via SB 63.
This week a bill is being introduced forcing employers to pay for abortions via SB 147.
The house is expected to vote on red flag laws today that were previously passed. The senate has since amended the legislation and sent it back to the House for a revote.

MI State Senate

Michigan Senate narrowly clears $175 million for China-linked Gotion plant.

*Sen. Jonathan Lindsey hosted a press conference in the Michigan Capitol last Tuesday to discuss the state of Michigan review process for taxpayer-funded economic development projects including the potential concerns surrounding the Chinese-based Gotion. Even with all of Gotion's known ties to the Chinese Communist Party, the Senate committee approved $175 million in state incentives for the Chinese-based company Gotion Inc. The EV battery component factory will be near Big Rapids. Democrats Send 'Red Flag' Bills to Governor. *Senate Democrats have submitted their final "Red Flag" bill – establishing a petition process for asking a court to temporarily block someone from firearm possession – to the Governor's desk on Friday. Steve Dulan of the NRA says more laws are not needed. What lawmakers should do is pump more money into mental health services, especially for minors. Senate OKs Electronically Sent Ballots For Out-Of-State Voters. *SB 259 was approved 24-14 in the Senate chamber. The legislation aimed to codify language from the successful Proposal 2 of 2022, which featured a measure enforcing military and overseas absentee ballots to be counted as long as they've been received within six days following an election.
CONGRESSIONAL DISTRICT UPDATES
2nd Congressional District:
All district information, updates, events and MORE can be found at,www.migopd2.org
11th Congressional District:
First regular meeting was held for the new 25 member Executive  Committee on April 18th. Guest speaker was Representative Steve Carra who spoke on the legislative agenda in Lansing.
The District has refreshed all its technology and social media.  Links are below:
DELEGATE OF THE WEEK
Dr. Ormand Hook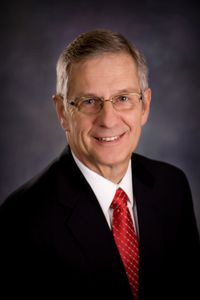 Dr. Ormand Hook is a retired School Psychologist and military veteran.  He was a Michigan State House of Representatives candidate in 2016.  Ormand grew up in a very poor part of rural Maine, where he learned the value of hard work and putting faith in God.
He's a former chair of the Mecosta County GOP, and is very active for conservative causes, along with his wife Teri.
He's been one of the most active leaders in the movement to stop Gotion. Ormand has led organizational efforts, appearances on various media outlets, and is using his vast network of relationships to bring resources to the effort. He has been instrumental in the fight to protect our Liberty.
---
Honoring History
      We are amidst the Grand Old Party season of Lincoln Day Dinners.  Let's take a few moments to reflect on our 16th United States President, Abraham Lincoln.  He was born in Larue County, KY on February 13, 1809. He was shot on April 14, 1865, at the Ford Theatre and died at the Petersen House in Washington DC on April 15, 1865.
      Abraham Lincoln was born poor and was a hard worker. He lost his mother when he was a child.  He was mostly self educated with only 18 months of formal education. He was a self taught lawyer and was young when he entered politics. 
      Abraham Lincoln is mostly regarded as the greatest president for his leadership during the Civil War and the abolition of slavery.  As President, he built the Republican Party into a strong national organization. He rallied most of the northern Democrats to the Union cause. On January 1, 1863, he issued the Emancipation Proclamation that declared forever free those slaves within the Confederacy.
       Lincoln's legacy is based on his momentous achievements: he successfully waged a political struggle and civil war that preserved the Union, ended slavery, and created the possibility of civil and social freedom for African-Americans.
       There are "Eight Laws of Lincoln" that refers to eight principles or values that Abraham Lincoln is believed to have lived by and consistently upheld throughout his life and presidency. These principles include honesty, integrity, hard work, courage, humility, wisdom, self-reliance, and justice.
Today, let's focus on two of these, and commit implementation for the current fight of securing the inheritance of Liberty for our children's future.  Perseverance – showing hope and determination in the face of defeats and loss.  Courage – bravely standing for what is right in the face of opposition and personal fears. Thank you for your commitment to conservatism and our Republican Party.
CLICK HERE to read more about the Republican Party